Pole dancing has completely changed Shannon Skura's life.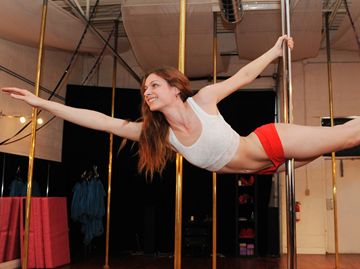 The 21-year-old says she went from a shy introvert to a confident woman who finally feels comfortable in her own skin — not that she's about to reveal that skin to the public — a stereotype that comes with pole dancing.
"Nooooo," said Skura, who said pole dancing is indeed a sensual sport, but it doesn't mean all pole dancers are exotic dancers. "Sure some pole dancers do, but for me, it's about the whole artistry of it."
Just six months ago, Skura started training at Milton's Brass Angels Pole Dancing Studio.
Sliding up and down a brass pole, Skura makes it look simple, but in fact it requires excellent upper body and core strength and flexibility.
She has been so successful, she just took part in her first competition. The Ontario Pole Fitness Championships were held Saturday night at the Teatro Conference Centre.
Skura came in fifth in the amateur category of the event, which overall included some 35 contestants — chosen via video submissions made to the Canadian Pole Fitness Association.
The physically-fit woman, who lives on the border of Milton and Mississauga, said she was nervous but excited in the days leading up to the opportunity.
Afterward, she said she felt proud of her accomplishment.
"I'm happy with how I did considering that I had very challenging competition who have been dancing for many years," Skura said.
"There was a very wide range of abilities amongst the competitors and it was difficult to determine how the judging would go."
Perhaps part of her success comes from the time she spent at school playgrounds, or anywhere she could find a pole, shortly after discovering the activity.
The Seneca College fashion arts graduate laughed when she described how she used to practice spins at poles normally used for tetherball in school playgrounds in and around Meadowvale.
Now, she has learned to toughen up her skin, which takes a beating on the pole.
Skura said "pole kisses" cause bruises on her arms and legs that takes some getting used to.
But she has no fear of trying new moves.